"Quest is a small business with a big heart. A heart of helping people to achieve their life aims. It was started as a family business by founder and senior orthotist, Jeremy Henshaw FBIST. Our orthotics heritage still influences our approach today, especially when it comes to attention to detail. Our experienced product specialists are focused on helping you to find the right solution", as Robert explains.
Robert Henshaw, managing director at English bicycle shop Quest 88, explains
"Quest 88 has over 30 years experience of overcoming the many little things which can sometimes be the biggest hurdles to independence and movement. This includes custom-made accessories and "doodads" to assist with steering, pedalling, braking and more. Contact us and we will help you to make the seemingly impossible, possible."
"We recognise that many of us can have something which obstructs our journey to leading a more expansive life whether that be related to illness, a lack of confidence, worries over fitness or impaired balance. The Quest Hub is aimed at everyone, regardless of ability or age, who has ever thought about cycling. We believe that with the right equipment, good advice and a little encouragement anyone can turn that thought into reality.", as Robert explains.
Book a test ride now!
"We have two Hub locations servicing both the Midlands and South West of England and the whole of Wales. These are in Shrewsbury and Monmouth respectively. Both offer space to ride the Huka bike Cortes and get the best service possible in two of the most picturesque towns in the UK."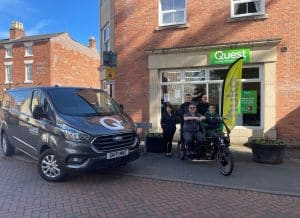 Visiting address: 15 Church St, Monmouth NP25 3BX, United Kingdom
Phone number: +44 (0)7538 422780
E-mail: hubmonmouth@quest88.com
Opening hours bicycle shop Quest 88, Shifnal, United Kingdom
Monday
closed
Tuesday
9.00 a.m. to 5.00 p.m.
Wednesday
9.00 a.m. to 5.00 p.m.
Thursday
9.00 a.m. to 5.00 p.m.
Friday
9.00 a.m. to 5.00 p.m.
Saturday
10.00 a.m. to 4.00 p.m.
Sunday
closed